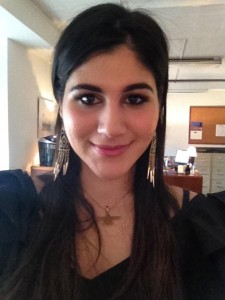 The Empire State Virtual Branch is proud to announce Donya Nasser
The winner of NCCWSL 2013 Scholarship
Award of $500!
Donya's Winning Essay:
Women in the United States, and generally around the world, face the stereotype that has been built up against them over decades and centuries of sexism. It is this façade of feminine weakness and the inability to achieve the strength of men that woman must not only endure, but attempt to crumble and invalidate. Young women are born into this generalization of their gender, and even prior to their entrance into this world they are considered unequal to men, whether it is blatantly expressed or implied. We must fight against this male generated theory that women are weak and unable to think past their own "little universe" comprising of concerns pertaining only to their sex. As Ambassador Melanne Verveer gracefully put it, "women's health translates into everyone's health," and of course First Lady Clinton's revolutionary statement "women's rights are human rights."  I have had many experiences with this stereotype, most recently while working on President Obama's re-election campaign. While canvassing one day in a Conservative area, I was met with a man who responded to my question, "Are you planning to support the President in the upcoming election?" with a brute and swift "No, and the only reason you will is because you are a crazy, lesbian feminist that wants to steal my tax money and use it for your birth control." I can only imagine what he would have said if I asked him as a candidate campaigning for my own election.
It is important, no, imperative, to have more women in leadership in order to shatter this disfigured conception that has molded and proliferated over time. Women offer a perspective to the table that is unprecedented and insightful because of the experiences they gather as females, their natural intuition and nature, and their ability to endure and adapt. These qualities allow all positions to thrive and expand the boundaries of success and prosperity.
Women, particularly feminists, are not interested in surpassing men or sustaining an "anti-man" mentality; no, they instead would like to encourage a pro-women disposition so that we may attain equality between the genders. We need women in leadership for today and thus tomorrow, so that we can move toward this objective and provide our own with the achievements necessary to see their goals realized. For those girls that aspire to run for office and transform the country as elected officials, we need more female Representatives, Senators, Governors, and Presidents. For those young women who dream to climb up the rungs of the business world's ladder, we need more female Board members and CEO's. For those that hope to accomplish eminence in the world of academia, we need more women as authority figures in Universities, especially fulfilling the Presidency role. Currently, we comprise 18% of the U.S. House of Representatives, 20% of the Senate, about 3% of Fortune 500 CEO positions and 15% of Board seats, 23% of college presidencies, and according to AAUW's director of research, Catherine Hill, almost twice as many male professors as female (64%) have tenure. In a world with nearly half of the population being women (the U.S. an exception with a higher percentage of women than men) it is ridiculous to consider that they do not hold nearly half of the leadership roles. Ignoring the skills and traits that they could contribute, women should hold more of these positions if considering the population alone.
My mother has empowered me since a small child competing with a boy for the safety guard duty in elementary school. I have been encouraged to do the same for the women that I encounter in my community, and have done so through inspiring and remaining active. I was recently appointed President of the Political Science Honor Society, elected Vice President of my school's College Democrats, and am now starting my campaign for Vice President of College Democrats of New York. However, I have tried to point to the importance of women in leadership roles by taking initiative and beginning the process of establishing an AAUW chapter on my campus. St. John's University is a Catholic institution, and not the best example of women soaring to new heights and testing their limits. I think establishing a branch is paramount to influencing the common outlooks on campus and shifting that state to one of equality and progress for our sex. It will raise awareness of the current situation to all those that are not conscious of the gender gaps that exist. It will encourage students to change their footprint in history, and take action for the feminist cause. Mostly, it will be a place for young women to discuss their issues, share ideas, and harvest solutions that will provide success they can directly see.
 My father's dream for me has resonated throughout this past year that I have not had the pleasure of his presence. Precisely one year ago, he helped me realize women run this world, and deserve to come out of the shadows and warm in the recognition that is due to them. For all of these reasons and many more, we need more women in the leadership of today and tomorrow.