About the Empire State New York City Branch
Since 1881 AAUW has paved the way for women to pursue their goals. We have been in the forefront of the battles for civil rights, education, and reproductive rights. With nearly 100,000 members and 1,000 local branches, our list of accomplishments is long. But we still have much farther to go, and that's why we need you.
Through branch membership, you can share in the opportunities for activism and help develop programs that promote education and equity, not just for women and girls but for the entire community. You can enhance your leadership skills. You can take advantage of numerous benefit programs. And you can tap into a network of women in New York State and nationwide.
Officers & Directors-at-Large
President:  Maria Ellis, Empire State NYC Branch (ESNYCB)
Program VP:  Colleen Ward, American Fellow, ESNYCB
Membership VP:  Ayesha Shakya, AAUW Fellow, ESNYCB
AAUW Funds VP:  Emmelina De Feo, ESNYCB
Recording Secretary:  Gloria Abrams, ESNYCB
Treasurer:  Chigurupati S. Rani, Ph.D., ESNYCB
Directors-at-Large:
Bylaws: Diane Haney, North Shore Branch, ESNYCB
College & University Relations: Lorrin Johnson, Westchester Branch, ESNYCB
Communications & Visibility Director: Jessica Sims, AAUW Fellow, Ph.D., ESNYCB
Cultural  Director & Young Women Task Force Liaison:  Terehas Edwards,
AAUW Fellow, ESNYCB
Diversity Director: Anita Nahal, Ph.D., ESNYCB
International Director: Julie Kleszczewski, ESNYCB
Parliamentarian: Laurie Ginnitti, Jamestown Branch
Public Policy: Edwina Martin, Rockland Branch, ESNYCB
Special Projects: Joan Monk & Anita Nahal, ESNYCB
Social Media Team: Jessica Sims, Ph.D. AAUW Fellow, ESNYCB, Emmelina De Feo, ESNYCB
Ayesha Shakya, AAUW Fellow, ESNYCB, Terehas Edwards, AAUW Fellow, ESNYCB
Ellis & Friends Fund:  Any individual donations to the Empire State NYC Branch will be matched by the fund.
Why join an on-line branch?
Here are some of the reasons you might want to join an on-line branch. You are committed to the AAUW mission, and
Geography: there's no land branch near you
Time: Other time commitments make it impossible to attend local branch programs, but you'd like to stay connected to women's issues and share with others who are committed to the mission, too.
Issues: Some issues need state-wide attention and you'd like to be a part of the strategies to bring about change.
Friendship: Meet women of diverse cultures, backgrounds, perspectives, and professions in New York State —women and men who are committed to shaping the future. And, It's a good way to stay in touch with AAUW friends across the state.
Can you belong to both a land branch and the Empire State Virtual Branch? Sure! Many AAUW members belong to more than one branch.
Take Advantage of AAUW Benefits
Membership in AAUW brings several benefits. You can review them on our national website here. They range from travel and research reports to medical and insurance benefits and Princeton Review discounts. Take a look.
What kind of people belong to an on-line branch?
Our membership directory is private (members only), but here are a few of the charter members that initiated the Empire State Branch.
Maria Elli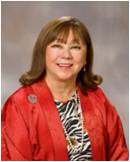 s : President, Empire State NYC Branch

Maria Ellis has a real estate practice in New York City.  She became interested in starting a virtual branch when she was elected AAUW NYS Vice President for Membership. Maria loves to see AAUW grow in influence and numbers. She knows that it takes many voices help to break through barriers.
Maria is an expert fundraiser. She has served on the national AAUW gifts committee and the Virginia Gildersleeve International Fund. And she gives nonprofits probono help through the Harvard Business School Community Partners.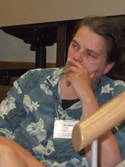 Donna Seymour is serving as AAUW Public Policy Director and will be editing the newsletter for the virtual branch. She has been championing the Empire Branch for some time. She sees it as a wonderful tool to bring together AAUW members who share concerns that cross traditional branch and district lines.  Donna has activism in her blood. In the past few months, she has been a leader in educating people about the environmental concerns around hydro-fracking, which touches much of the state.St. Lawrence County Branch
As a 20-year AAUW member Donna  has served two stints as NYS Communications Director and is a former editor of the NYS FOCUS. She lives in Potsdam, way upstate, and is a member of the St. Lawrence County Branch.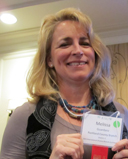 Melissa Guardaro is drawn to international women's issues and she was recently appointed as AAUW's representative to the United Nations.
Melissa worked with Joan Monk to develop, implement and improve "My Sister's Keeper," a  statewide project to enrich our international involvement.  Many of us have benefited from the AAUW United Nations Day conferences she has organized. In 2010, she traveled with AAUW's national delegation to Cuba.
Melissa is a five-year member of the Rockland Branch. As international chair there, she led the team that provided a mentoring program for USAID students from Central America, Mexico and the Caribbean.  She served as branch co-president (2009-11) and was recognized as an Emerging Leader by AAUW NYS in 2009 and is just finishing her term as international chair on the state board.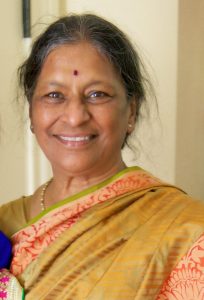 CHIGURUPATI S. RANI: Treasurer, Webmaster, Empire Times Editor-in-Chief
Dr. Rani is an assistant professor of computer information systems at the Borough of Manhattan Community College, City University of New York. She received her BA and MA in mathematics from SUNY New Paltz and her PhD in computer science from the Graduate Center, City University of New York. She worked as a programmer/analyst at IBM Corporation as a programmer in Geometric Design Processor, which managed three-dimensional modeling design technology for manufacturing computer hardware.  She has many years of service in private industry. Dr. Rani gave seminars in the field of data compression techniques and net-work security at CUNY as well as in India. Her research interests include information retrieval, database management, wireless networks, network applications of telemedicine, and network security as well as compression techniques as applied to cryptography. She is a member of AAARI, ACM and IEEE. Dr. Rani's hobbies include cooking, walking, photography, movies/plays, number puzzles, and travel.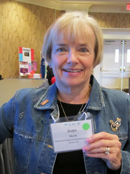 Joan Monk takes her AAUW membership seriously. She's a life member and belongs to three branches: Westchester, Poughkeepsie, and Kingston. Now, she's a charter member of Empire. Fairytales intrigue her and she has traveled the world to study with the experts. In her second career (she retired from her first as a pre-kindergarten teacher) she raises funds for her favorite nonprofits, writes, and facilitates fairytale workshops for adults.
Joan is the NYS District Council Coordinator and developed "My Sister's Keeper" with Melissa Guardaro.


Dr. Carol Huie   International Director
Dr. Carol Huie is an Assistant Professor in the Business Department at Hostos Community College. Prof. Huie holds a Bachelor of Science Degree in Computing and Management from Herbert Lehman College@ City University of New York and a Master of Science Degree in Computer Science from City College of New York @ City University of New York.  Dr. Huie earned her doctorate in Information Technology from Capella University.  Dr. Huie research interest includes Impact of Information technology on business performance, Decision Support Systems and Behavioral Decision Making, Implementation and adoption of information technology and Knowledge-based systems and other related technologies. She is a member of NBEA (NATIONAL Business Education Association) and Decision Sciences Institute.

Donations
We want to thank all of our donors and members for their generous financial support and personal commitment to the missions of AAUW. If you would like to make a donation, please use the button below.
Let Us Answer Your Questions
Please e-mail us with any questions you may have. And feel free to invite your friends and business associates … anyone you believe would be interested in helping us shape the future for women and girls.
We look forward to having you join us virtually.