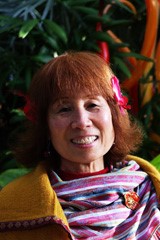 Diversity and Inclusion: What is the Meaning?
Heide Parreño,
Diversity Director, AAUW Empire State Virtual Branch, member of Fairport Area Branch, and former member of National Diversity and Inclusion Task Force, AAUW
Millennials believe that diversity and inclusion are essential to business success. Diversity and inclusion are more than just buzzwords or boxes to check. In a new study, Deloitte and the Billie Jean King Leadership Initiative ( BJKLI) analyzed responses from 62 questions of 3,726 individuals. These individuals are from a variety of backgrounds with representation across gender, race/ ethnicity, generation, sexual orientation, national status, veteran status, disabilities, level within an organization, and tenure with an organization.
Milllennials view diversity as the blending of different backgrounds, experiences, and perspectives within a team.  This is known as cognitive diversity, a necessary element for innovation that is 71% more likely to focus on teamwork.
To read the full article follow the link-– http:/www.fastcompany.com/3046358/the-newrules-of-work/millenials-have-a-different definition-of-diversity-and-inclusion.
What does diversity and inclusion mean to the tech industry ?
Two groups come to mind: one is a tech industry with people with disability and another is Google.
Melissa "Echo" Greenlee, founder and CEO of deaffriendly.com, a website dedicated to bringing awareness to deaf-friendly businesses and corrective feedback to deaf-challenged businesses through consumer reviews, has this to offer:
" I own and operate the consumer review website deaffriendly, which allows deaf, deaf-blind and hard of hearing consumers throughout the United States to rate and review businesses on how accessible and deaf friendly they are. We employ an all-deaf team of designers, writers, trainers with a variety of experiences and communication modalities. "
The biggest story around diversity and inclusion in 2017 is the headline: "Products for people with disabilities created by people with disabilities".
The implied meaning of diversity and inclusion for Melissa is to make the world more accessible to 70 million deaf, deaf-blind and hard of hearing people around the globe.
Google:  Google leaders know that diversity on their teams, specifically inclusion from underrepresented groups – is key to having individuals from underrepresented backgrounds apply for its job openings and feel welcome at the company. "We fully acknowledge we have work to do and are committed to this work for the long haul," says Thygesen, whose own division features a program designed to help grow women and minority-led businesses that are interested in working with Google.
"What diversity and inclusion meant to Google" was put to the test when one of the male engineers wrote a manifesto questioning Google's diversity training and women's aptitude for coding.  Google's CEO, Sundar Pichai, cut short his vacation to respond to the issue– which resulted in the firing of the engineer.
What does Diversity and Inclusion mean to AAUW? Having the Task Force on Diversity and Inclusion is not enough. What actions can Branches, State and National have?  What can we learn from the Millennials, Google and the Deaffriendly  Group?