Congrats to the organizers, speakers
and all those members and friends
who contributed to the success of
the AAUW NYS District V Conference on
"Diversity and Inclusion in Today's Workplace"
held at Mt. Sinai Hospital in New York City on October 15, 2016.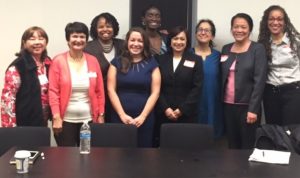 The participants included keynote speaker Bich Ha Pham, Public Advocate NYC; Azadeh Khalili, Executive Director, Commission on Gender Equity, Office of the Mayor, NYC; Pamela Abner, Chief Administrative Officer, Office of Diversity and Inclusion, Mount Sinai Hospital; Rippi Karda, Assistant General Counsel, Verizon, Basking Ridge, NJ and Gabrielle Lyse Brown, Director of Diversity and Inclusion, NYC Bar Association. Congrats to the District V Leadership for such a successful Conference!