Yes, AAUW grants International Fellowships which are intended to provide fellows with the opportunity to develop knowledge and skills that will directly benefit their home countries.
To support the continuation of fellows' work after they return home, AAUW awards a limited number of International Project Grants to International Fellows who have successfully completed the course of study for which they received an AAUW International Fellowship.
The grants support community-based projects that benefit women and girls in the fellow's home country. The applications start from August 1 to January 15. See below our 2017-2018 Fellowships and Grants Awardees.
Alumnae of our International Fellowships and International Project Grants have tackled women's equality issues in their communities head-on. From securing property rights for widows to building safe hearths for cassava production, these women are helping the most vulnerable — and the most resilient — members of their communities.
Meet Our Alumnae: International Project Grants

Melita Vaz: Project: Enhancing Aspirations toward STEM Subjects in School Girls in M Ward, Mumbai, India
Melita Vaz (2016-17) used her grant to increase opportunities for school girls in underprivileged communities in Mumbai, India to learn about opportunities in STEM fields and, in turn, develop their resilience, mental health, and economic opportunities.
Dr. Vaz used her 2002-03 International Fellowship to earn a doctoral degree in social work. Passionate about helping underprivileged women and girls overcome challenges through developing systemic support systems, Dr. Vaz has applied her research skills and her vision to organizations such as the Tata Institute of Social Services, the Population Council, and the Government of India.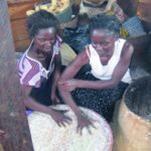 Mary Dzansi-McPalm: Project: Women Cooperatives in Cassava Business, Saviefe Agorkpo, Ghana
Mary Priscilla Dzansi-McPalm (2012-13) helped women and girls in Ghana improve their earning and safety by helping them develop the skills and technology needed to more safely and efficiently process and market cassava. Dr. Dzansi-McPalm is dean at the School of Creative Arts at the University of Education in Winneba, Ghana. She was a 2001-02 International Fellow.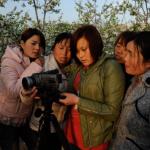 Diedie Weng: Project: Yongji Organic Farmer Video Network Training Program, China
Diedie Weng (2011-12) trained women farmers in participatory video production to engage farmers in documenting and discussing local techniques and challenges in organic agriculture in northern China. Since completing her grant, Weng has gone on to producing films, including "The Beekeeper and his Son," her first feature documentary, which premiered at the 2016 DOC NYC film festival. Weng was a 2005-06 International Fellow.