The International Day of the Girl honors and celebrates girls around the world – elevating the status of girls in our local and global communities, and addressing key issues related to girls' empowerment, leadership and success.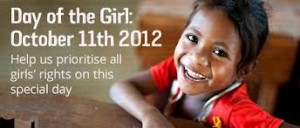 In December 2011, the United Nations General Assembly adopted a resolution to establish October 11th the "International Day of the Girl Child." This day, the General Assembly noted, is about "helping galvanize worldwide enthusiasm for goals to better girls' lives, providing an opportunity for them to show leadership and reach their full potential" (UN GA Resolution 12.9.11).
Encourage the girls you know to join with girls around the world
This October 11th, 2012 marks the first commemoration of this historic day!  Ask girls' programs — schools, Girl Scouts, STEM programs, clubs — to join hands with others.
There is an all day summit where girls from around the world can participate (and get a chance to win UGG boots) http://dayofthegirlsummit.com . There is also a toolkit from the Working Group on Girls that includes excellent resources, historical information and activities. You can download this toolkit at http://dayofthegirlsummit.com/wp-content/uploads/2012/07/DayOfTheGirlToolkitJuly2012.pdf