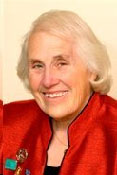 Nancy Mion, our Empire State Virtual Branch Public Policy Director and AAUW Islip Area Branch Long Island Suffragists Committee Chair. Nancy comes by this naturally for her grandfather, Nathaniel Schmidt, a professor at Cornell, was an active suffragist. She is a member of the statewide NYCHTN Women, Right's Committee. Nancy is currently: Islip Area Branch Program Vice-President & Public Policy Director; L.I. Interbranch Secretary/Treasurer; NYS Legal Advocacy Fund (LAF) Director; and a National AAUW LAF Committee Member. She is a past NYS President and Public Policy Director. She has been an involved dedicated committed AAUW member for 40 years. Her other abiding interest is the Suffolk County Coalition Against Domestic Violence. Nancy was a librarian who received her BBA in Management from Hofstra University and her MS in LS from SUNY Albany.
If you would like a copy of Nancy's Powerpoint presentation on the history of the suffrage movement especially as it applies to New York. Contact Nancy Mion at myown220@aol.com.

If you were not able to attend Joan Monk's presentation about Eleanor Roosevelt and Leadership: "Eleanor's Alphabet Soup", you can e-mail Joan at ftmaven@gmail.com about interesting program(s) for your branch.
As you know, Joan is a fairy tale/happiness/play enthusiast engaging students of all ages in what has heart and meaning for her. With an e-mail moniker of 'ftmaven' she has been dubbed the "AAUW NYS Unofficial Director of Whimsy" because of her passion for fairy tales. As the former Education Director of the Peter Pan Children's Fund, she has unlimited access to pixie dust, sprinkling it wherever she goes!
Her latest fairy tale endeavor is "The Wonder & Wisdom of Oz," celebrating the 75th Anniversary of America's favorite fairy tale with students from age 4-104. As a Master Teacher in the Yonkers Public Schools, Joan "worked her magic" lovingly there for nearly four decades. She considers herself "an inspired not retired" educator, having worked as an early childhood teacher, parent trainer, workshop leader and college professor. Now she is putting put volunteer work center stage in her encore career. Jacob Burns Film Center, Westchester Children's Museum and The Academy for Character Education at Sage College all benefit from her energy and enthusiasm.
Inspired by the mission of AAUW, she joined as a 'lifetime member" twenty years ago. She is a member of four branches in NYS: Westchester, Kingston, Poughkeepsie and ESVVB. At present, Joan is Special Projects Director, District V Coordinator and is chairing the NY/NJ WILD Project. She served as District Director, International Affairs Chair and Cultural Interests Director also. She lives in Yorktown with Rob the prince, Toto the dog, and Mushy the cat.