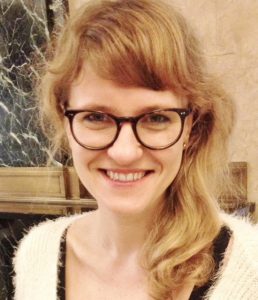 Karolina Lukasiewicz is a Postdoctoral Research Fellow at McSilver Institute for Poverty Policy and Research at New York University (NYU) and adjunct lecturer at Silver School of Social Work, NYU. Her research is focused on welfare programs addressed to refugees and asylees in the United States. She is also a principal investigator in two projects focused on immigrant communities in NYC.  She has been studying the situation of immigrants and refugees for over twelve years. She received ten various international fellowships and awards for her work with immigrant communities. Her articles have appeared in journals such as International Migration and Journal of Family Issues. Additionally to her academic engagement, Karolina is involved in several clinical initiatives as evaluator and employment trainer in organizations assisting refugees. She is a member of different professional organizations, including Influencing Social Policy and International Association for the Study of Forced Migration. Karolina received her doctoral degree in at the Jagiellonian University in Poland in the Center for Evaluation and Analysis of Public Policies.
SOCIAL POLICIES AND REFUGEES
Karolina Lukasiewicz
The McSilver Institute for Poverty Policy and Research
New York University
SOCIAL POLICIES FOR REFUGEES
• Federally funded programs provided by often faith-based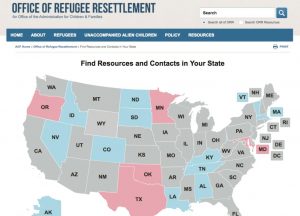 organizations (so called VOLAGS)
WHO IS A REFUGEE?
Refugee Act of 1980, Based on 1951
Convention on the Status of Refugees and the 1967 New York protocol
In 2016 FY: 84,995 refugees resettled to the U.S. and 25,154 were granted asylum
A person fearing of being persecuted for reasons of: race, religion, nationality, membership of a particular social group or political opinion
A person is an "asylum seeker" until granted "refugee status"
Asylum – protection granted to foreign nationals already in the United States or at the border who meet the international definition of a "refugee."
A refugee has a right to be protected against forcible return
Eligibility for refugee status is determined outside the U.S. among applicants referred by UNHCR, successful applicants are resettled to the US.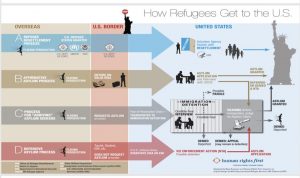 OTHER PROTECTED IMMIGRANT STATUSES IN THE U.S.
Temporary Protected Status (In 2016 FY, 300,000 individuals had TPS),
13 countries eligible: El Salvador, Guinea, Haiti, Honduras, Liberia, Nepal, Nicaragua, Sierra Leone, Somalia, South Sudan, Sudan, Syria, Yemen
Granted for 6-12 months to those migrants who may not meet the legal definition of refugee but arefleeing—orreluctantto returnto—potentially dangeroussituations.
Holders of Special Immigrant Visas (In 2016FY:6,336Afghansand890Iraqis)
REFUGEE RESETTLEMENT (implemented through the U.S. REFUGEE
RESETTLEMENT PROGRAM)
U.S. has the largest resettlement program worldwide: accepts the largest number of resettled refugees in the world (in general numbers)
Refugees constitute less then 10% of immigration to the U.S.
More than 3million have arrived in the U.S. since the Refugee Actof1980 ü
Between 1983 and 2004, refugees were mostly resettled to large metropolitan areas: in California (Los Angeles, Orange County, San Jose, Sacramento), the MidAtlantic region (New York) and the Midwest (Chicago, Minneapolis-St. Paul)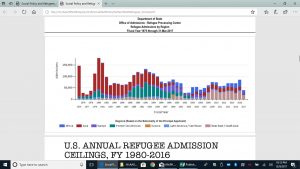 REFUGEES ADMITTED in 2016 FY
Democratic Republic of Congo(16,370) ; 2. Syria (12,587); 3. Burma (12,347) ; 4. Iraq (9,880) ; 5. Somalia (9,020)
Top two sending countries between 2006-2016: 1. Burma (159,692) 2. Iraq (135,643).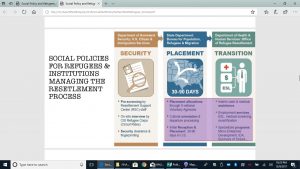 9 VOLUNTARY AGENCIES (VOLAGS)
PROVIDING RECEPTION FOR REFUGEES BASED ON AGREEMENTS WITH THE STATE DEPARTMENT
1. Church World Service (CWS) 2. Ethiopian Community Development Council (ECDC) 3. Episcopal Migration Ministries (EMM) 4. Hebrew Immigrant Aid Society (HIAS) 5. International Rescue Committee (IRC) 6. US Committee for Refugees and Immigrants (USCRI) 7. Lutheran Immigration and Refugee Services (LIRS) 8. United States Conference of Catholic Bishops (USCCB)->Catholic Charities 9. World Relief Corporation (WR)
Organizations providing services to Immigrant Communities that you can support
1. Northern Manhattan Coalition for Immigrant Rights 2. New York Immigration Coalition 3. Immigrant Defense Project 4. Black Alliance for Just Immigration 5. Counsel on American-Islamic Relations (CAIR) 6. Families for Freedom 7. Young Center for Immigrant Children's Rights 8. New Sanctuary Coalition of NYC 9. American Civil Liberties Union (ACLU) 10. Southern Poverty Law Center
GOALS OF SOCIAL POLICES FOR REFUGEES
Economic self-sufficiency as quickly as possible. (The Refugee Act of 1980 INA §411.1.):
"earning a total family income at a level that enables a family unit to support itself without receipt of a cash assistance grant." (DHHS, Code of Federal Regulations -Title 45: Public Welfare, December 2005).
CHALLENGES DURING THE CURRENT ADMINISTRATION EXECUTIVE ORDER
Protecting the Nation from Foreign Terrorist Entry into the United States
01/27/2017 (1) suspended entry from 7 Muslim countries, (2) extreme vetting, (3) pausing refugee resettlement • Several court rulings enjoined various parts of this executive order 03/06/2017 (1) suspended entry from 6 Muslim countries (2) extreme vetting, (3) pausing refugee resettlement • on June 26th the Supreme Court decided in favour of some aspects of Trump's executive orders • On June 30th The U.S. Department of State published guidance regarding the admission of refugees: only those refugees who already have close relatives in the U.S. are allowed to enter the U.S. 10/24/2017 Resuming the United States Refugee Admissions Program with Enhanced Vetting Capabilities
EXECUTIVE ORDERS Enhancing public safety in the Interior of the United States
01/25/2017: Executive order 13768 (1) Removal priorities: broadens categories of non citizens prioritized for removal (2) State/local cooperation in immigration enforcement (3) Sanctuary jurisdictions: federal funds to be withheld from jurisdictions that prohibit exchanging information with DHS regarding immigration status of any individual (4) Hiring 10,00 additional Immigration and Customs Enforcement (ICE) officers (5) Reporting on immigration status from prisons Developments: 32.6% increase in arrests of removable citizens (between January and March 2017 compared to 2016 ); doubled arrests of individuals without criminal records; Attorney General sends letters to sanctuary cities asking to provide evidence for comply with these orders (Including NYC, LA, Chicago) ; NYC declares to limit cooperation with ICE (e.g. IDNYC)
ASSISTANCE FOR REFUGES JEOPARDIZED 2016 FY: • A rate of 270 refugees a day • 85,994 refugees planned to be resettled 2017: • A rate of 122 refugees a day • 50,000 refugees planned and less than that planned for 2016
Federal budget cuts, as a result resettlement agencies are reducing their staff in the US and worldwide, welfare programs suspended for some period of time
ON THE GROUND
• What is the impact of suspending refugee resettlement for 24 hours? • Imagine three types of security screenings lasting up to 3 years, each valid for around 90 days, different for every family member • During this 24 hour period hundreds of families had to start the screening process from the beginning • What is the impact of the suspension of social programs, e.g. Matching Grant (MG)? • Eligibility to participate in MG only up to 30 days upon arrival • Most of NYC VOLAGs suspended enrolling to MG for a couple of months • Thousands of refugees and asylees irreversibly lost their chance to participate in the program and are left unassisted
WHAT CAN WE DO?
• With your local community and local refugee resettling agency sponsor resettlement of a refugee family • Volunteer in a refugee resettlement agency: • Help with English language conversations (e.g. 1on1)–often provided by retired volunteers • Help with case work: welcome arriving refugees, prepare a house and welcome meal for them, assist at doctors appointments, sign up children to school • Organize a trip as part of cultural orientation • Organize celebrations (e.g. welcoming Thanksgiving for refugee community) • Join community gardening (IRC) • Help at Youth Academies
Do you have questions about assistance for refugees? Do you want to assist refugees and don't know how to start?
Write to me! Karolina Lukasiewicz kjl409@nyu.edu
Also, watch a movie about Syrian refugees resettled to New Jersey: https://www.youtube.com/watch?v=UY4mI12OMjE